New from November 2014: visit PyroWasp internet shop to purchase Wasp training and smoke grenades, OSA nonlethal multifunctional pistols and self defence items as well as sparklers from Russia
---
GPEC 2014: 8th International Exhibition and Conference for Police, Special Forces and Public Safety; 9 - 11 September 2014, Leipzig, Germany

Wasp participated in the 8th International Exhibition and Conference for Police, Special Forces and Public Safety, which took place in Leipzig, Germany on 9 - 11 September 2014. Policemen and security personnel were able to test Wasp smoke grenades as well as the OSA PB-4-2 nonlethal pistol and were very impressed.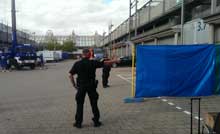 GPEC General Police Equipment Exhibition & Conference® is Europe's leading specialized trade fair for authorities and other public safety organizations. The focus is on police and special equipment, safety and rescue technology and services. GPEC targets the following groups: Police; Border Guards; Customs and Financial Bodies; Prison Service and Justice; Government Services and Agencies; Fire Brigades, Public Safety and Rescue Organizations; Services of Critical Infrastructure Protection; Special Forces; Military Police; Gendarmerie and Infantry.
GPEC aims at supporting:
Interdepartmental and interdisciplinary exchange of information;
Technologies for state-of-the-art equipment and training of state security forces;
Strengthening of state security, the fight against terrorism and for homeland security.
---
Africa Security and Counter-Terrorism Summit 2014 Conference and Exhibition 27 and 28 February 2014
Wasp participated as a Gold Sponsor in the Africa Security and Counter-Terrorism Summit 2014, held recently in London. Security professionals and delegates from the the world's leading companies in the field met to discuss one of the the most pertinent security issues affecting Africa's governments and people.
Wasp CEO Joanna Spitkovskaya during the Africa Security and Counter-Terrorism Summit

---
19 - 23 November 2013: Milipol Paris, the International Exhibition of Internal State Security
In November 2013, WASP attended Milipol in Paris, where the first contract for sales of Wasp grenades in France was signed. French officials also expressed interest in OSA nonlethal guns.
Milipol Paris is a unique technological showcase and platform for promoting and marketing products, services and expertise to the international security community.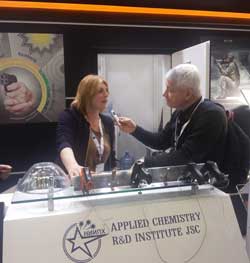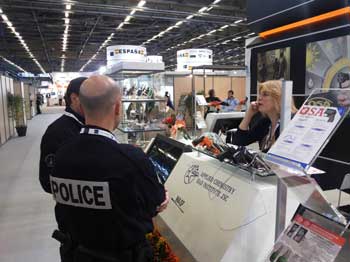 ---
June 2013, members of the Saudi Arabian police force attended a demonstration of the OSA nonlethal pistol PB-2-4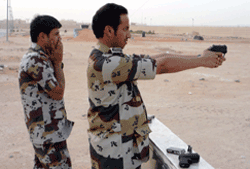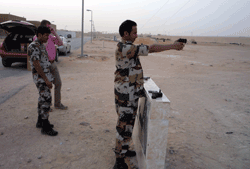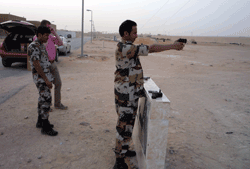 ---

Wasp participated in IWA 2013 and in Enforce Tac 2013, both of which took place in March in Nuremberg, Germany
Visitors to IWA were greatly interested in Wasp's growing range of products.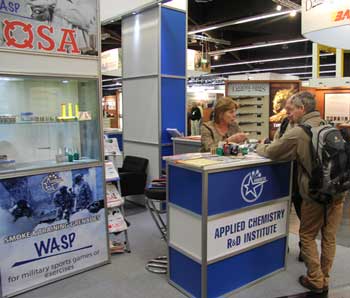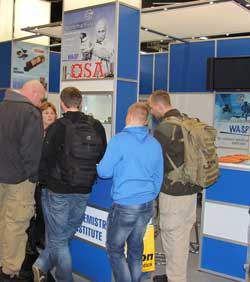 ---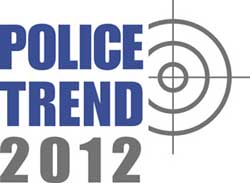 Wasp was selected to participate at the exclusive Policetrend 2012 which was held 22 October 2012 at the Bruenig Indoor Shooting Sports Centre in Lungern, Switzerland, the only subterranean 300m shooting range in the world. PoliceTrend 2012 was a closed event, open only to police and military personnel.
Wasp was the only company offering non-lethal products that was invited to attend. Other participating companies included pistol and ammunition manufacturers. More than 200 decision makers visited the event and they were particulary impressed by demonstrations of osa pistols using flashbang and rubber bullets.
---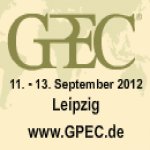 In September 2012 Wasp presented the OSA nonlethal pistol at the 7th GPEC® in Leipzig. GPEC, or General Police Equipment Exhibition & Conference®, is Europe's leading specialized trade fair exclusively for members of authorities or administrative bodies, such as police or government departments or agencies. The focus is on police equipment and special technologies, safety technology and related services.
Policemen and security personnel were able to test the OSA gun themselves and were impressed by the precision shooting, ease of operation and workmanship of the pistol.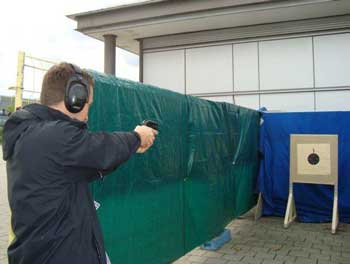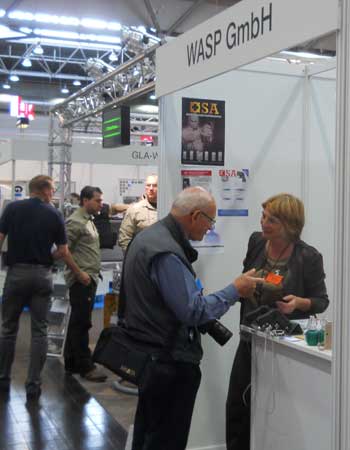 ---
Successful demonstration of OSA nonlethal pistol and training grenades
The OSA nonlethal pistol with two types of ammunition was presented in Berlin during an information seminar organized by BAM, the German Federal Institute for Materials Research and Testing, on 31 May 2012.
The presentation was followed by a demonstration of OSA training and smoke grenades.
Considerable interest was shown in both the pistol and the training grenades.